Pasta with sardines
Level:

Intermediate

Preparation time:

1 hour

Cooking:

15 minutes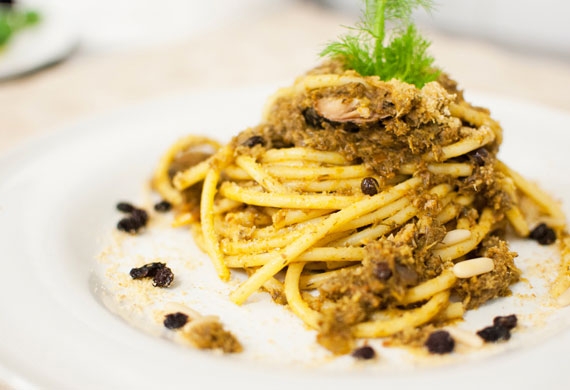 Ingredients 4 servings
300g bucatini pasta
300 gr fresh sardines
80 g extra virgin olive oil
30 gr raisins
30 grams of shelled pine nuts
4 bunches of wild fennel (the most green part)
4 salted anchovies
80 grams of onion
Pepper to taste
Saffron to taste
Preparation
Boil the fennel for ten minutes in plenty of salted water, drain and chop, keeping the cooking water to cook the pasta. In a saucepan, blanch the sardines in olive oil for a few minutes, drain and set aside.
In the same pan, fry the finely sliced ​​onions and add the fennel, sardines, raisins (soak to soften first in warm water for about half an hour), pine nuts, salt and pepper. Cook over low heat, stirring to mix the sauce.
After about twenty minutes, add the anchovies, which you have previously washed, dried and melt in a pan with a tablespoon of hot oil.
Let cook for another 15 minutes, stirring constantly, and then combine the saffron dissolved in a tablespoon of the fennel cooking water.
In the meantime, cook the pasta in the cooking water of fennel. Drain al dente and add to the sauce.
Let it stand for a few minutes before serving.
Suggestions